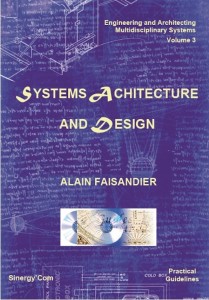 Description:
This volume of 360 pages is part of the series "Engineering and Architecting Multidisciplinary Systems". This practical guideline is intended for professionals who have to conceptualize and design multidisciplinary systems. They will find methods, modelling techniques, case studies to start using the approach. Other people exchanging with system architects and designers (responsible for integration, verification and validation, program and project managers, technological study engineers, service developers, etc.) will find simple explanations. It is useful to University professors, researchers and students, as certain topics could lead to more extensive studies.
Fundamentals are presented as a consistent set to be applied immediately. You will find basic practice about What-to-do; but the interest resides more in the details of How-to-do. The case studies explain step by step how to perform the activities and tasks. Readers can directly transpose the step-by-step and use provided templates for their current or future projects.
As the author is a member of professional associations like the International Council On Systems Engineering (INCOSE), and in particular contributes to Working Groups for international standardisation (ISO-IEC) on the subject, a certain number of concepts, activities, methods, modelling techniques and advice have been selected to be presented here. The Guide to Systems Engineering Body of Knowledge version 1.0 (SEBoK), published at the end of 2012, for which the author is contributing, contains such materials; but more explanations and details are discussed in the present book.
Table of content:
Download the detailed table of content: click here
Buy this volume on various distribution sites; for this, visit: www.sinergycom.net
Available formats:

ebook PDF format protected under licence – ISBN 979-10-91699-00-6

paper format – ISBN 979-10-91699-03-7
Templates: